Description
Extremely hard-wearing | Made in Germany
Consumption / coverage: 1.6 kg/m2 per coat (2 coats recommended)
Waterproofing swimming pools and as a substrate preparation for swimming pool paint
Sealant is extremely waterproof, weather resistant and scratch resistant
Sealing slurry protect concrete from chemicals and acids
Optimal for swimming pools, concrete cisterns, ponds, fountains, sauna pools.
Adheres to tiles, concrete, cement, formwork blocks/shuttering blocks
Sealing compound can be easily applied with a smoothing trowel
Mixing ratio is 3:1 (powder component:liquid component)
Note: apply thinly and evenly
2K-Pack sealing slurry for swimming pool outdoor concrete area Gray SL430 5-20Kg
This 2-component epoxy slurry is used to seal swimming pools and as a substrate preparation for SL 450 2-Pack Swimming Pool Paint.
Product Description:
Flexible Sealing slurry SL430 is a 2-component sealing slurry based on cement, mineral fillers, special additives and synthetic polymers. Due to the high content of synthetic resins, SL430 adheres perfectly to a wide variety of surfaces and after drying creates a flexible and impermeable protective layer.

SL430 is fiber reinforced, does not cause corrosion of metals and after curing it becomes resistant to low temperatures and chlorine.

SL430 2-Pack Swimming Pool Sealing Slurry and SL450 2-Pack Swimming Pool Coating form a perfectly matched composite system.

SL430 primarily performs the sealing function and serves as an adhesion promoter for SL450

SL450 provides a beautiful look and pleasant feel.

On mineral substrates (e.g. tiles, concrete, cement), both products are always required to reliably seal the pool.

Consumption / coverage: 1.6 kg/m2 per coat (2 coats recommended)
Mixing ratio:
3 parts powder component : 1 part liquid component
Recommended add-on products:
W810 – Special pre-cleaner for cleaning the substrate
SL400 – Pool paint is a quick-drying, highly water-resistant, abrasion-resistant as well as scratch- and impact-resistant swimming pool paint
SL450 – 2-Pack Swimming Pool Paint as a final sealant is much more mechanically and chemically stable and durable than commercial 1 commponent swimming pool paint on chlorinated rubber or PU basis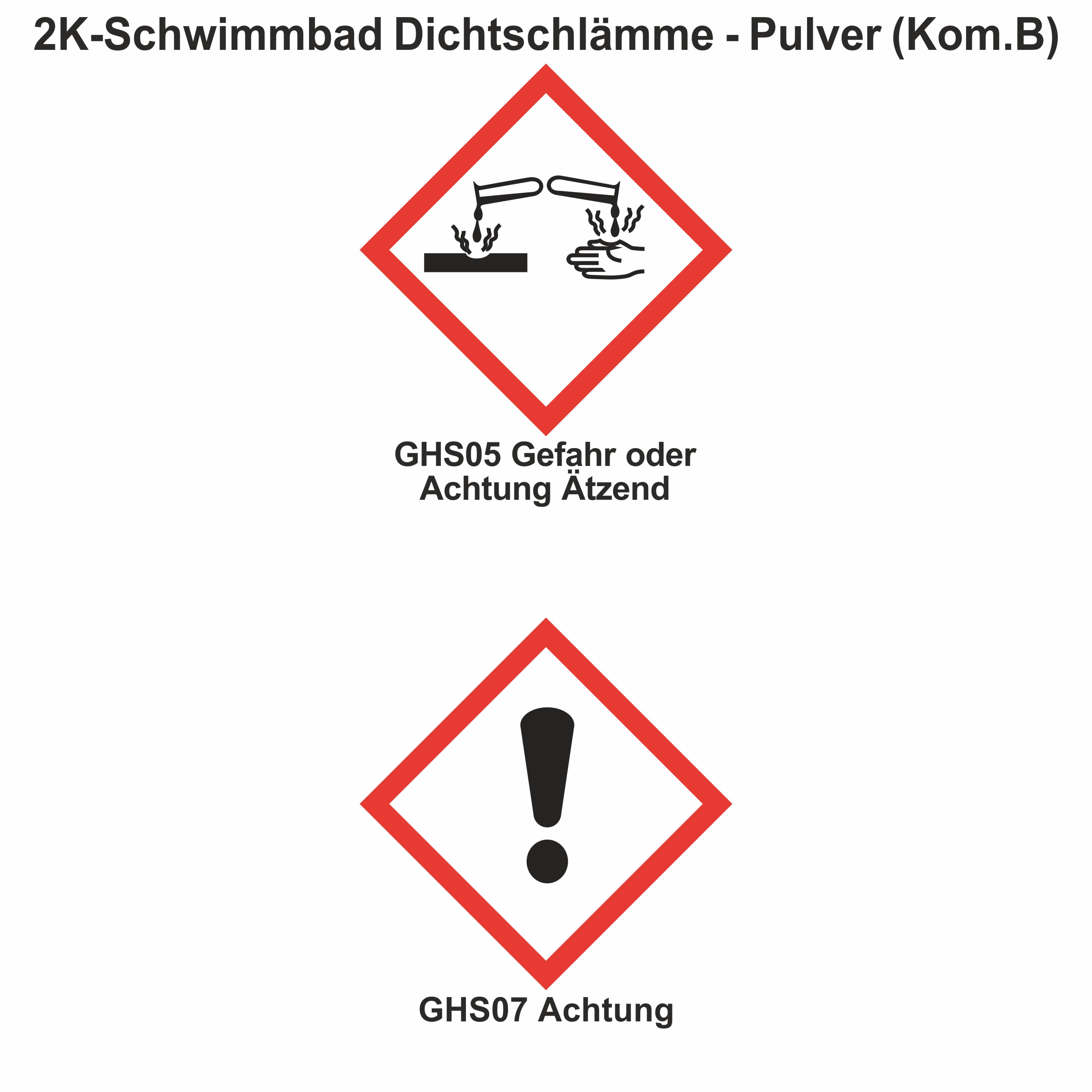 H-Statements
2-Pack Swimming Pool Sealing Slurry - Liquid (Kom.A)
The mixture is classified as non-hazardous according to Regulation (EC) No 1272/2008 [CLP].

2-Pack Swimming Pool Sealing Slurry - Powder (Com.B)
Causes skin irritation. / May cause allergic skin reactions. / Causes serious eye damage. / May cause respiratory irritation.

Keep out of the reach of children. / Wear protective gloves / protective clothing / eye protection / face protection / In case of contact with skin or hair: Take off immediately all contaminated clothing. Wash skin with water or take a shower. / In case of contact with eyes: Rinse cautiously with water for several minutes. Remove any contact lenses if possible. Continue rinsing. / Immediately call poison center or doctor / Wash contaminated clothing before wearing again. / Dispose of contents / containers to hazardous waste collection point.