Description
2-component epoxy resin floor coating + hardener
Consumption is strongly dependent on the absorbency of the substrate
Epoxy for mineral surfaces e.g. concrete, cement and screed, also for hard asphalt screed and fiberglass
W702 2 components floor paint creates a silk-gloss and easy-care surface
Easy to use / Water-based / Low odor
Good durable and impact / abrasion resistant load capacity even on trafficked industrial floors
2-pack epoxy resin floor paint has excellent chemical resistance for floor
Solvent-free, environmentally friendly epoxy resin coating for interior use
Application area: garage, workshop, basement, warehouse, industrial hall, covered parking lot and more.
Consumption: approx. 200-300g / m2 per coat; 5kg up to 25m2 l 10kg up to 50m2 l 20kg up to 100m2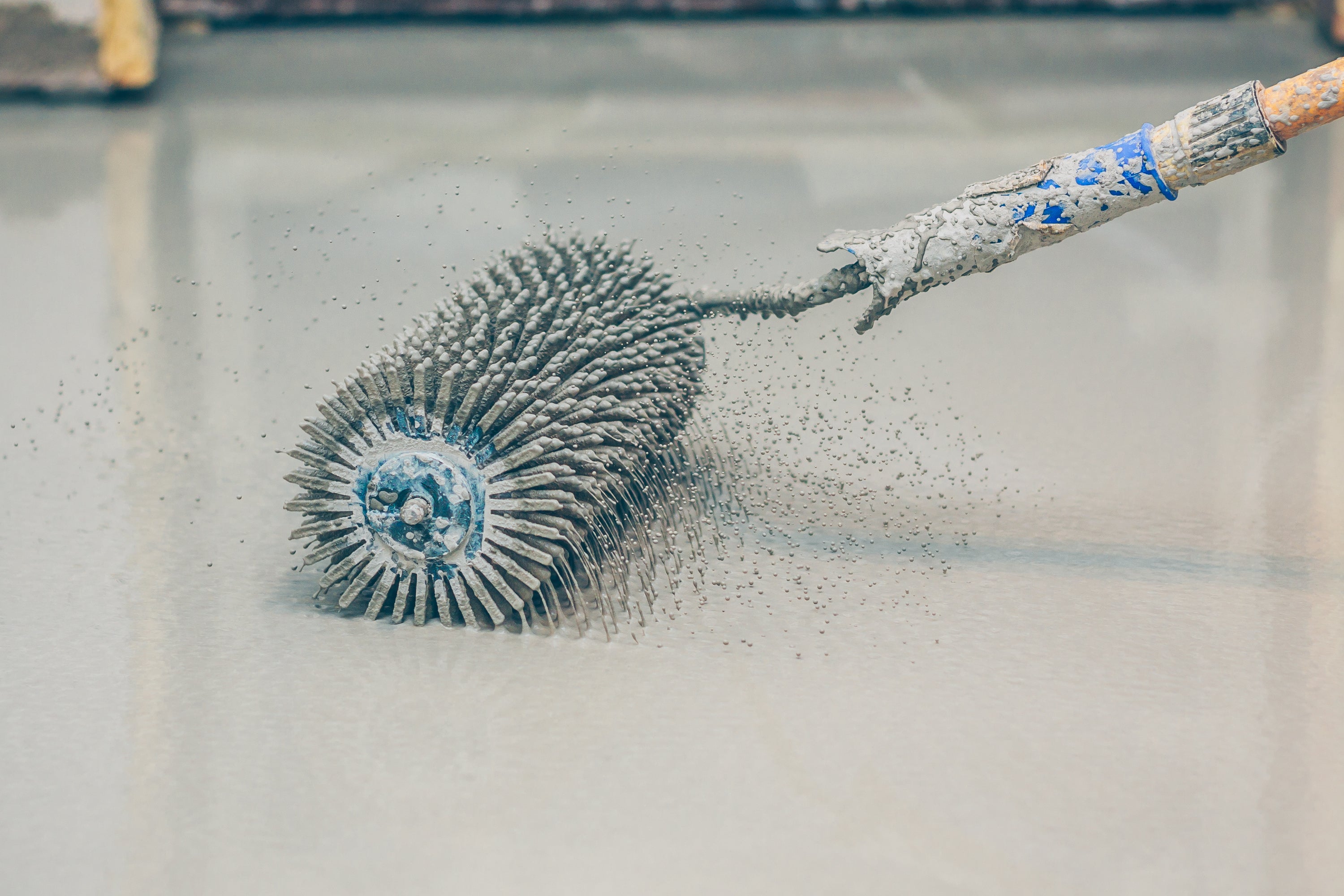 2-Pack Epoxy Resin Floor Coating Paint Garage Concrete W702 2,5-20Kg
2-pack water-based epoxy resin is a highly abrasion-resistant, chemical-resistant 2-pack floor coating for interior use. For coating garages, basements, living rooms, offices and rooms with higher loads.
Product description
2-Pack epoxy resin floor coating from WO-WE is an ideal coating for concrete, cement floors indoors. W702 coating is extremely abrasion resistant, scratch resistant and easy to clean. In addition, the garage floor / industrial floor is protected against various chemicals, oil, road salt and dirt. The mechanical resistance is mainly determined by the strength of the substrate. Due to the low layer thickness, there is a risk of damage to the sealing film in case of stronger mechanical stress, therefore it is always recommended to apply 2 coats.

Our 2-Pack epoxy coating is satin gloss. For the MATT finish, we recommend the W702 Epoxy Resin Floor Coating Paint Garage Concrete. For the last coat, Epoxy Sealer W734 Colorless floor protector for concrete is recommended, but BE CAREFUL!!! it gives the SHINY aspect to your surface.

Operation area: General industry, steel construction, heavy corrosion protection, agriculture, production halls, warehouses, basements, balconies, carports, parking decks and many more.

Consumption: approx. 200-300g/m2
PLEASE NOTE!!! THE CONSUMPTION IS STRONGLY DEPENDENT ON THE ABSORBENCY OF THE SUBSTRATE
Surface preparation
Check substrate and adhesion for suitability, remove loose pieces. The substrate must be load-bearing, clean, dry, grease-free and solid. First completely remove dirt, cement slurry, oxide layers, lime deposits or separating agents with W810 Special Pre-Cleaner and wash thoroughly. Heavily soiled, oil-contaminated or new concrete or screed surfaces must be additionally pretreated with W800 Etching solution First repair any cracks and holes with W757 – 2-Pack epoxy resin mortar . Level unwanted unevenness and slopes with W715 - Levelling Compound.
Processing
Mix the material in the correct mixing ratio (colored: 10:1 / clear 2:1) FIRST IMMEDIATELY BEFORE PROCESSING. To do this, first stir the base compound, then add hardener and mix intensively at max. 450 rpm with a slow-running agitator or drill with stirring paddle until a streak-free and uniform color shade is obtained. Transfer material to another container (repot) and mix thoroughly again (do not process from the delivery container). Always work fresh in fresh for a uniform appearance. When rolling, apply the material evenly and re-roll in a cross pattern
Recommended additional products
W758 – Silicate-based anti-slip agent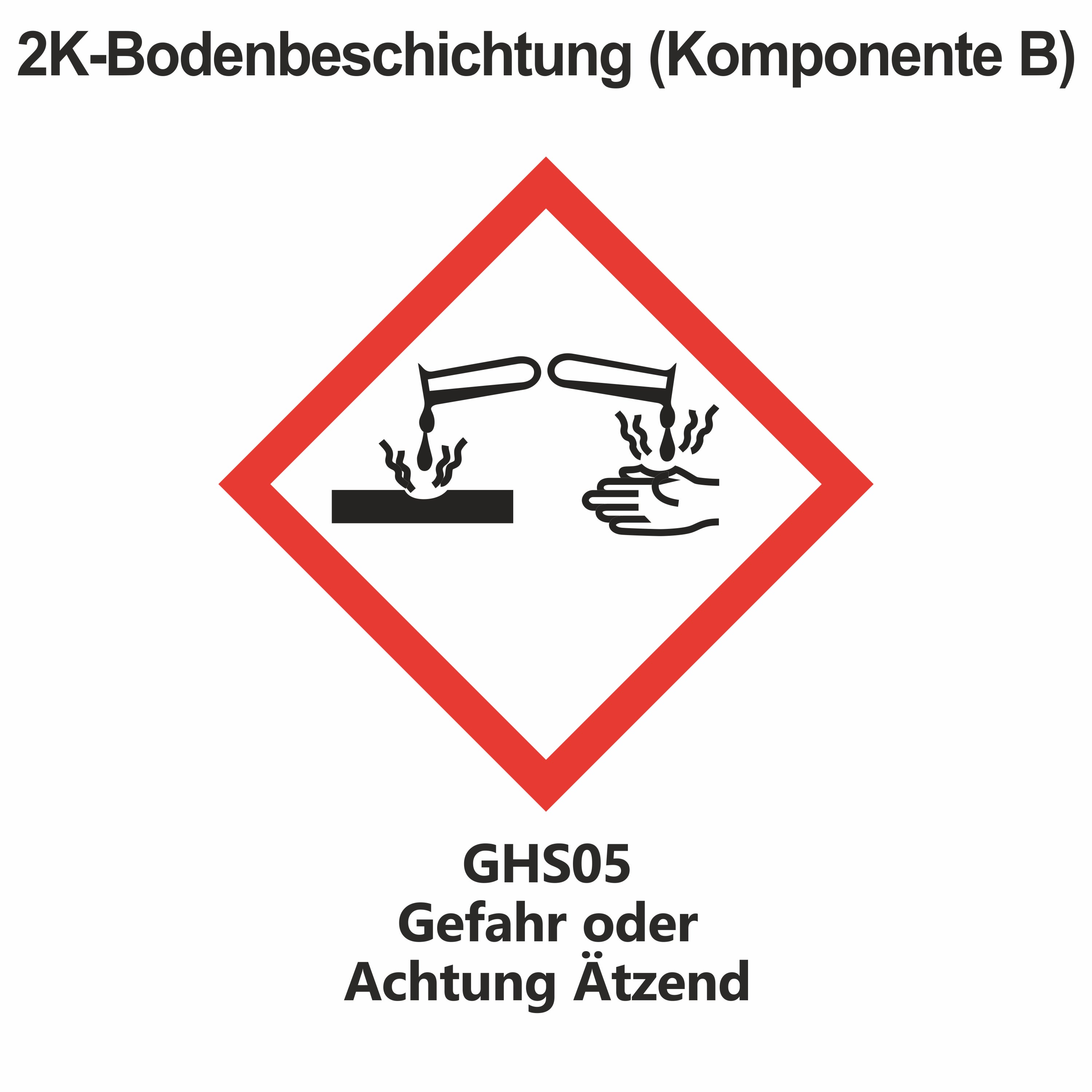 H-Statements
2-Pack Epoxy Resin Coating (Com-A)
The product complies with the requirements of EU Directive 2004/42/EC on the limitation of VOC content.

2-Pack Epoxy Resin Coating (Com-B)
Causes severe eye damage

Keep out of reach of children / Wear protective gloves / protective clothing / eye protection / face protection / In case of contact with eyes: Rinse cautiously with water for several minutes. Remove any contact lenses if possible. Continue to rinse / In case of skin irritation or rash: seek medical advice / seek medical attention / If eye irritation persists: seek medical advice / seek medical attention / Dispose of contents / container to an appropriate recycling or disposal facility

The product complies with the requirements of EU Directive 2004/42/EC on the limitation of VOC content.